Online Wound Care Certification Courses
Learn More About What Course Is Right For You
It can be an intimidating experience for healthcare professionals when deciding which wound care certification course to take in order to achieve accredited wound certification. There is an overwhelming array of wound courses and certifications available these days, and it is not always easy to know where to begin. We have developed this useful online tool to help you identify which wound certification course and exam will best suit your experience level and academic degree.
Accredited Wound Care Certification Course Benefits
Half the cost of traditional wound care certification courses
"Until You Pass" wound care course access
Up to 60 Continuing Education hours
E-Textbook(s) included
Wound Care Certification Study Guide included
Wound care product guide included
No additional/hidden fees
24/7 Support for all wound care course students
Full preparation for accredited wound care certifications including the CWCN® (Certified Wound Care Nurse), CWCA® (Certified Wound Care Associate), CWS® (Certified Wound Specialist), and CWSP® (Certified Wound Specialist Physician) certification, AWCC® Advanced Wound Care Certification, and the WCC® (Wound Care Certified) Certification*
*Individual certification board eligibility must be met in order to sit for the certification exam.
Online Wound Care Certification Course Highlights
Achieving accredited wound care certification has never been more important for personal career growth and improved patient care – so what better time to prepare for the accredited certification examination? The test is challenging, but with the innovative online interactive courses from WoundEducators.com, learning has never been easier.
Course Details
Online Wound Care Training Program & Wound Care Courses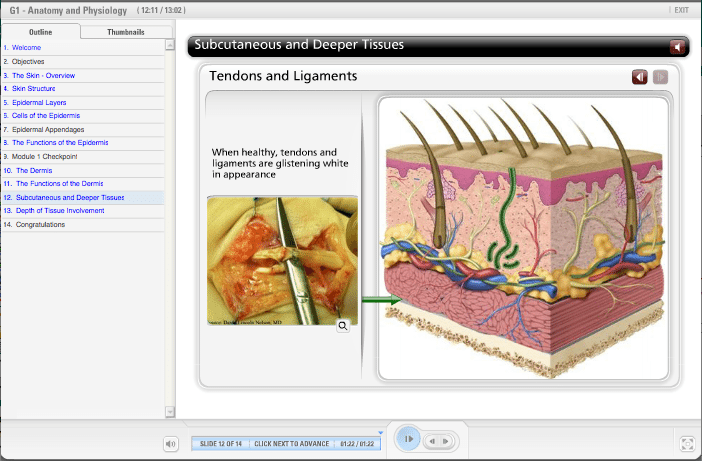 17 interactive wound certification course chapters pertain to all areas of wound management
Quizzes and tests gage your knowledge and identify areas in need of improvement
Digital images, animated activities, and video clips demonstrate important learning concepts
Charts and wound care study guides can be easily downloaded for future reference
Current journal articles can be downloaded and printed
Important wound care terms are presented with each module to reinforce important concepts
Wound Care Certification Training Kit
Current wound management e-textbook reinforces online wound care training
Interactive wound case studies that allow you to apply your wound care knowledge through the diagnosis and treatment of patients
Wound Care Certification Study guide includes an outline of each module and a note-taking area to use while completing online coursework
Study Aids for the Wound Care Certification Exam
Online wound care certification flashcards reinforce key definitions
Detailed wound care course outline to help you prepare for the wound care certification examination that best suits you
Practice wound care certification tests and quizzes are included with each module to strengthen learning
Ability to track progress and return to any course area to reinforce specific topics
Test-taking strategies and practice wound care certification exam to help you be 100% prepared
WoundEducators.com Review & Testimonials:
See What Others Are Saying