Moist wound healing is now the norm in wound care, rather than the dry gauze dressings of old. This is due to the fact that studies have shown that moisture actually speeds wound healing.
Advantages of Moist Wound Healing
Advantages of moist wound healing include the following:
moist wounds heal 2-3 times faster than dry wounds
a moist wound environment facilitates all three phases of wound healing; specifically, it decreases the intensity and length of the inflammatory phase, speeds the proliferative phase
a moist wound environment decreases the amount of time it takes for the body to solubilize the crust that forms over dry wounds (scabs); by eliminating these barriers keratinocyte distance and travel time across the wound is reduced
moist wounds facilitate autolytic debridement by trapping enzymes that are endogenously produced
a moist wound environment preserves growth factors and other substances that promote cell growth and proliferation within the wound fluid
moist wound healing increases the synthesis of collagen and the proliferation of fibroblasts
moist wound healing hastens angiogenesis and wound contraction
moist wound healing reduces wound pain in most patients
moist wounds often have less scarring after healing takes place
How Much Wound Moisture is Needed?
Un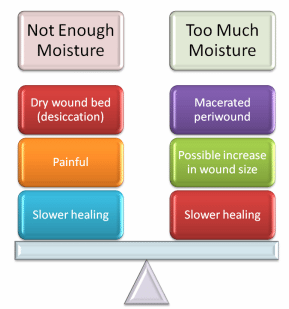 fortunately, there is no easy way to determine exactly how much moisture is needed for wound healing. However, there are some signs you can watch for that can help you determine when a wound is too dry or too wet- the trick is getting just the right amount of moisture without overdoing it. We've already discussed the advantages of moist wound healing, but what happens when wounds are too moist?
Wounds that are too wet can show delayed healing. The periwound can become macerated, which can lead to further skin breakdown. Macerated wounds more readily admit irritating substances, including bacteria, thus the risk of infection increases. Skin that is macerated is more prone to friction, which means that tissue can tear more easily.
How is Wound Moisture Controlled?
You might wonder how wound moisture can be perfectly controlled to enhance, rather than delay, wound healing. These days, there are numerous dressings available that are designed to wick moisture away from the wound bed when wounds show signs of being too moist; there are also dressings that can donate moisture to an overly dry wound bed, while others maintain the status, quo, so to speak.
Besides dressing, there are other wound management strategies that help to control wound moisture. For example, controlling bacteria is also important. Infected wounds are often too moist. Wounds that require debridement are usually too dry, and removing necrotic tissue will reveal a moist wound bed that will heal much more rapidly.
As can be seen, maintaining a moist (but not too moist!) wound environment is important in wound management and healing. If you enjoyed this article and would like to learn more about wound care certification, visit Wound Educators, specializing in preparing you to become a certified wound professional
Source:
Meyers, B. (2008). Wound Management: Principles and Practice. 2nd edition. Pearson Prentice Hall. Upper Saddle River, New Jersey. pg. 124-125.
Liu, G. (2011). Optimizing the Wound Healing Environment. Nursing Excellence, the online newsletter for children's nurses. http://www.childrenscentralcal.org/PressRoom/Publications/NursingExcellence9/Pages/OptimizingWoundHealingEnvironment.aspx